FEATURE – Dhanushka Kuma
by Shayanya de Costa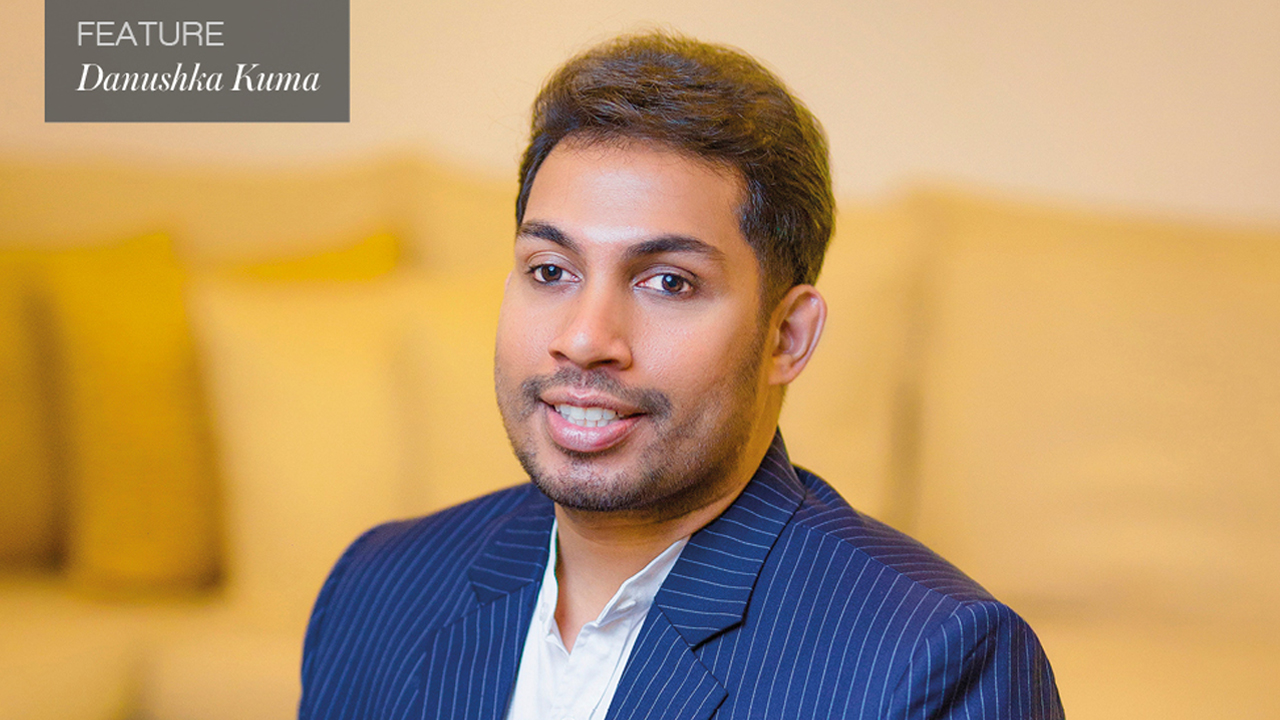 He defied his father's ambition for him and dared to challenge the norm. He fulfilled his childhood dream with unwavering determination. He excels in an industry that is predominantly female oriented. He is sought after by brides and celebrities. Most of all, he is respected for his work and loved by all for his humility. We are fascinated by his story as much as Brides love his bridal dressings. So, Bride Of Sri Lanka struck a conversation with him to find out more about his inspiring journey to success. He is Danushka Kuma…
Let's talk about your early years of your career…
I actually don't have any family background of hair, makeup and dressing. However, from my childhood I had a desire to be a make-up artist. It naturally came from within me. I remember, during my childhood, I used to dress others all the time as a hobby. My models were my sister, my caretaker and my neighbors. It's interesting as well as funny because I used my watercolors for makeup, as I didn't even have a proper makeup set or brushes.

By the time I finished my A/L's I had a sound knowledge of makeup, hairstyling and dressing. I was self-taught. I did a lot of research on my own. Once I finished my exams, I did two dressings for a photo-shoot and later I met with Mr. Harris Wijeyasinghe along with the pictures of that shoot.

I have always wanted to train under Harris Mama's (Uncle's) supervision. Luckily, once Harris Mama saw the pictures of my shoot, he asked me to come and watch him work when he was dressing his brides. In 2007, that was the proper start of my professional journey. My desire to be a make-up artist was eventually fulfilled after I met Harris Wijeyasinghe, a true legend and one of the pioneers of the make-up industry in Sri Lanka.

What inspired you to step in to this field?

I have always been very attracted to this field. I love dressing brides. It's my passion. But seeing Harris Mama's work as a little child inspired me more. I have so much respect for him. It is because of him that we have the hair and beauty industry in Sri Lanka today. He has worked really hard to add value to this industry.
What were the struggles you faced in this journey?
My father is a businessman and he badly wanted me to take over his businesses. So quite obviously he never wanted me to become a bridal dresser. That was my struggle. But my mother gave me immense support to come up in this industry. She is the cornerstone of my success and my strength.
What are your major accomplishments?
So far, I haven't received any awards but self-satisfaction in what I do, is my greatest reward. I enjoy my work and my clients are happy and satisfied. I have accomplished goodwill. Today, people know me today as Dhanushka Kuma. This means I have done something truly memorable. That's why people admire my work. And also, many celebrities come to get dressed by me and they are happy with my work. One of the biggest accomplishments for me so far, has been dressing the queen of the silver screen Malani Fonseka. She is extremely satisfied with my work and admires my work, always. To me, it is far more meaningful than an award.
What's your signature style?
My signature style is dressing a bride as an authentic Kandyan bride. Today, many people ruin our traditional Kandyan attire, but I ensure that I don't change its authenticity. Of course, we can add modern touch; however the Kandyan outfit should not lose its traditional elements. Most people know my brides from the style of dressing. I love dressing a simple and elegant bride.
What are the popular bridal trends for 2021?
Modern Kandyan is very much in trend. Back in the day, we saw most saree bridals with the veil. But nowadays, we see that most brides wear the Nalal Patiya (forehead jewellery) instead of the veil. Simple jewelry, natural make up, thread work and Beeralu sarees are definitely trending in 2021.
What is your advice for brides who want a soft, minimal look?
Our cultural clothing doesn't promote exposing the female body. Yet, most girls want to go in for deep necklines, open back short jackets and Neriya (Frill on the waist) on the lower waist. I have earned a reputation as a traditional Kandyan dresser; therefore I never recommend a bride to have such inappropriate styles for a Kandyan bridal. However, with Indian and western brides, we can opt for any style. Most brides do like a soft look and I offer them exactly that, from the hairstyle to the makeup I do.
What should they wear in terms of outfit, accessories, makeup and hair?
To Kandyan brides, I recommend wearing a unique custom made outfit. I usually create lace work or beeralu work custom designs with softer tones. With an Indian or low country look, I'd say a simple saree with no heavy work will be ideal, depending on their body type. Customized sarees definitely stand out. Therefore I recommend brides to get their outfit designed rather than purchase readily available sarees from shops.
Less jewellery is always comfortable and nice. So I advise not to have the entire Kandyan jewellery set for kandyan brides unless she is a completely traditional bride. Indian and western brides could use earrings only. Make up should be soft and natural. A bride is a bride - she is not a model from a fashion show. So her makeup should be very soft and natural.